Asus ROG Strix G15 Ryzen R7 
The Asus Rog Strix G15 Gaming laptop with AMD Ryzen R7 4800H up to 8 cores ,
2.9GHz processor speed and GeForce 4GBGTX 3050 Graphics .
You're getting one of the fastest laptop CPUs available with a GPU runs AMD's best in conventional gaming.
The laptop gives a high performance that can be used from multitasking to gaming.
it comes with 15.6″ Full HD IPS 144Hz Display.
Asus Rog Strix G15 Gaming laptop would be the perfect choice for you if you're a gamer.
Asus ROG Strix G15 2021 review 
The Asus Rog Strix G15 is the cross between performance and aesthetics  , in three colors  ,bright Electro Punk personas , original black and cool Eclipse Gray takes your look to the next level.
you can play anywhere on Asus Strix G15 that's up to 7% smaller and more portable than the pervious generations .
Asus ROG Strix G15 specs
Bigger Touchpad
with an active touch pad of 13.1 x 7.7 cm  that's 86% larger than the pervious generations.
more comfortable hand movements glass pad coated with a silky smooth feel .
Keyboard
Extensive RGB lighting ,multimedia control keys makes using the gaming laptop easier ,the typing noise is relatively smooth and quite .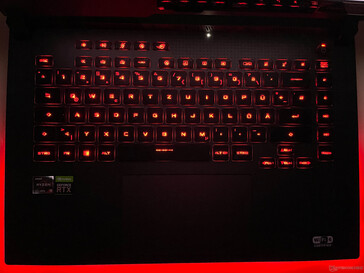 if you want to match it with a better gaming keyboard and gaming mouse our site has many options for you.
Are you a gamer ?
you can safely go for RTX3060,RTX3070,RTX3080,RTX2080-Super laptops or if you are looking for a low budget gaming laptops you can check our site.
and we highly recommend The MSI GP76 Leopard 10UE Gaming Laptop for  an amazing gaming experience.
Are you a daily user ?
our website gives you all the options with a budget fits your needs .
go to our website , laptops section, and choose the price range , brand, ram size and anything further you need.
We offer free delivery within 24 hours in UAE to Dubai, Abu Dhabi, Al Ain, Sharjah, Fujairah, Ras Al Khaimah, Ajman, Umm Al Quwain.
All items on our website have 1 year warranty!
We also guarantee the best service and prices in UAE 🙂
And If you have any further questions please feel free to contact us.