After sitting whole days at home it's finally time for your sim to start earning some money and pursue a dream career. The Sims 4 Get to Work is the first expansion pack includes three new career paths: if you love resolving mysteries, you can become a detective. Do you want to save other Sims' lives? Go for the doctor path. Your sim's creativity almost blew up the house? The scientist is the perfect job to keep their creative mind busy. What is interesting here is that these are not the usual Sims jobs, where when your sim goes to work, you stay at the apartment for the next 8 hours. This time you can follow your sim to their workplace and control them. You decide whom to help or what to do, which may influence their performance.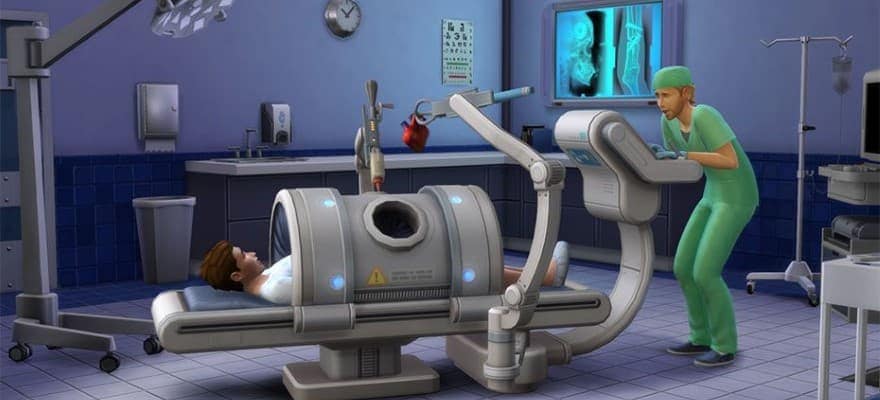 Visit Magnolia Promenade!
Additionally, if you are not interested in following other people's orders, you may create your own business and try to make it flourish to become the most popular in town. Speaking of the town, The Sims 4 Get to Work implements a new trade district called – Magnolia Promenade, which you may want to visit if you're looking for a good place to start your business.
Beware of the aliens!
The aliens invade the sim towns once again, now they are undercover, so stay cautious. Be careful with whom you are talking to because they may not be the sims they claim to be. Similarly, to the previous games as in The Sims 3: Supernatural, you can create an alien yourself in the character creation menu, this time with a bigger choice of skin colors, and enjoy erasing and controlling minds of regular sims. Â Be careful though, as your disguise may be discovered if you are not cautious enough! If you feel alone, you can always try to visit your alien kin in the space.
Additionally, the pack added numerous new items such as new collectibles, new baking skill, x-ray machine, mannequins and many more for you to explore.